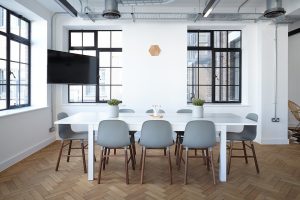 As is true with anything, there are trends in office interior design, and one that is sweeping companies in the past few years is converting original warehouses into stylish workplaces. This is especially common for start-ups and modern companies that are looking to entice potential employees and clients with trendy offices. Naturally, these warehouses are usually in need of office refurbishments, but why does it make sense for all parties involved?
Here at Wessex Interiors, we are a team of office interior designers that have plenty of experience helping our clients transform their offices. We use this industry experience to help explain why warehouses are ideal for office refurbishments in our latest blog post below.
Benefits
First, it's a good idea to begin with the clear and obvious benefits to using warehouses for office refurbishments:
Currently, there is a popular demand for space as our cities become denser, and costs rise. This is ideal in the case of warehouse office conversions as the warehouses are generally situated in densely-populated areas as a result of their 'past-life' and, especially if they are in a state of disrepair, they can be acquired for a great price. Being able to make the most of existing infrastructure makes sense for businesses and towns as it reduces disruption and costs, but also helps a city maintain the character of its past.
As a continuation of the importance of location, warehouses are generally well connected with good transport links as they will have been important manufacturing hubs when they were in service for their initial use, and this is great for employers and employees both.
The character of the warehouse is another great benefit to make note of as this is perhaps one of the best selling points for employers and then, in turn, employees. A unique and original workplace – oftentimes with characterful, original architectural features – is a big change for many employees who are used to working in traditional office settings.
One of the most significant architectural features of some warehouses is actually ideal for office refurbishments – the high ceilings. Many warehouses have high ceilings in an already large space, which helps to allow for more expansion possibilities with companies having the capacity to be able to make more of their space with mezzanine floors.
As aforementioned, space is at a premium and warehouses will generally have it in abundance. This means it can be used by larger companies, or by start-ups expecting to grow quickly. If they can't fill out space immediately, employers may even be tempted to turn their office refurbishment project into a potential revenue stream by creating separate office spaces that they can rent out to other companies.
Great for Employers and Employees
And there you have it – a plethora of positives to take from exploring a warehouse office refurbishments for all involved. Once it's broken down, it really makes sense on both ends of the stick – for employers and for employees.
Wessex Interiors
If you have an office refurbishments project that you would like to enquire with our team here at Wessex Interiors, please get in touch with us by calling 02380 663 100 or filling out our simple contact form.